Are you looking for a fast, simple way to literally inject more prospective clients or customers into your business?
No matter how great your product is, if there is no one who knows about it you are aren't going to sell it.  If you want to grow your business to the next level and make a lot more profit, you're going to need to shift your focus towards lead generation.
In this article, I'm going to walk you through a simple, step-by-step, proven method of FAST lead generation in your business by using lead magnets to attract customers.  I learned this information from expensive courses from marketing gurus such as Ryan Deiss, Frank Kern, and Neil Patel.
WHAT IS A LEAD MAGNET?
A lead magnet is something awesome that you give away for 'free' to someone in exchange that they give you their email address.  Think of it as a bribe.
I really liked Ryan Deiss's definition of a lead magnet from Digital Marketer:
"A lead magnet is a small chunk of value that solves a specific problem for a specific market that is exchanged for an opt in"
Here are some examples of a lead magnet…
Notice the trend?  It goes something like this…
Want to learn more about _______?  Great!  I'll teach you about _______ for 'free' if you give me your email.  Gain access now!  
I like to put the term FREE in quotations because while the person may not have given you any money for the product, they've given you something even better — their contact information.
As I've mentioned to you guys before, building a relationship with someone is the KEY to creating long-term, loyal, and ultimately PROFITABLE customers in your business.  You can sell something once to someone, or you can make them love you and get them to be a customer for life.
WHY ARE LEAD MAGNETS IMPORTANT?
Think of it like going on a date with someone.  They don't really know you, and they aren't sure if you're the right fit for them.  They're basically giving you a try and seeing if you can offer them what they're looking for in (what hopefully becomes) a long-term relationship.
It's the same way in business!
PEOPLE WILL DOUBT YOUR PRODUCT'S ABILITY.
If they've never heard of you, or they're not confident in your ability to provide for them, then you aren't going to gain their trust.  In the end, this means that they will not be willing to buy from you!
PEOPLE WILL DOUBT THEIR OWN ABILITY TO USE IT.
Additionally, your potential buyer might also have a lot of doubt in their own ability to achieve their desired outcome.  This part is very important to address because you need to be able to convince your potential buyer that they too will be able to use your product to their benefit.
This is why lead magnets are so important.  Lead magnets are the best way to targeting a specific desire that people have and offer a specific solution to the problem.  By doing that, you will prove your own ability to help them right off the bat without any money down.
On top of proving your own ability, the potential buyer will be given a teaser of the content and be a lot more comfortable in their own ability to achieve their end desire with your product!
WHAT
NOT

TO USE AS A LEAD MAGNET
A FREE TRIAL
Remember, a lead magnet is supposed to be a chunk of value that solves a problem.  A free trial isn't the best lead magnet because everyone knows that eventually it's going to expire and your potential customer be in the same spot as they once were.  That is not giving away true value!
CHEAP VALUE PRODUCTS
The better the value of the lead magnet, the more conversions you're going to see.  Don't skimp out on the value that you are going to offer.  Deliver high quality value to your prospects, and they'll happily opt in.
WEBINARS
A webinar is a great way to convert leads into customers, however they don't work as well as lead magnets.  Since a webinar is a time commitment, they don't offer the initial value in advance that you need to create a great lead magnet.
WHAT YOU SHOULD USE AS A LEAD MAGNET
CASE STUDIES
Case studies make awesome lead magnets because they provide specific examples of how to go about being successful whatever it is you are offering.  Try your best to be as specific as you can as the more specific you are the more likely you will hit a pain point in a person's mind and get them to desire your product.
EBOOKS
I love E Books as giveaways because they are incredibly valuable for a specific piece of information and they can be consumed very quickly.  Also, because the eBook will be very specific it does not have to be long which will be easier on your part to produce it.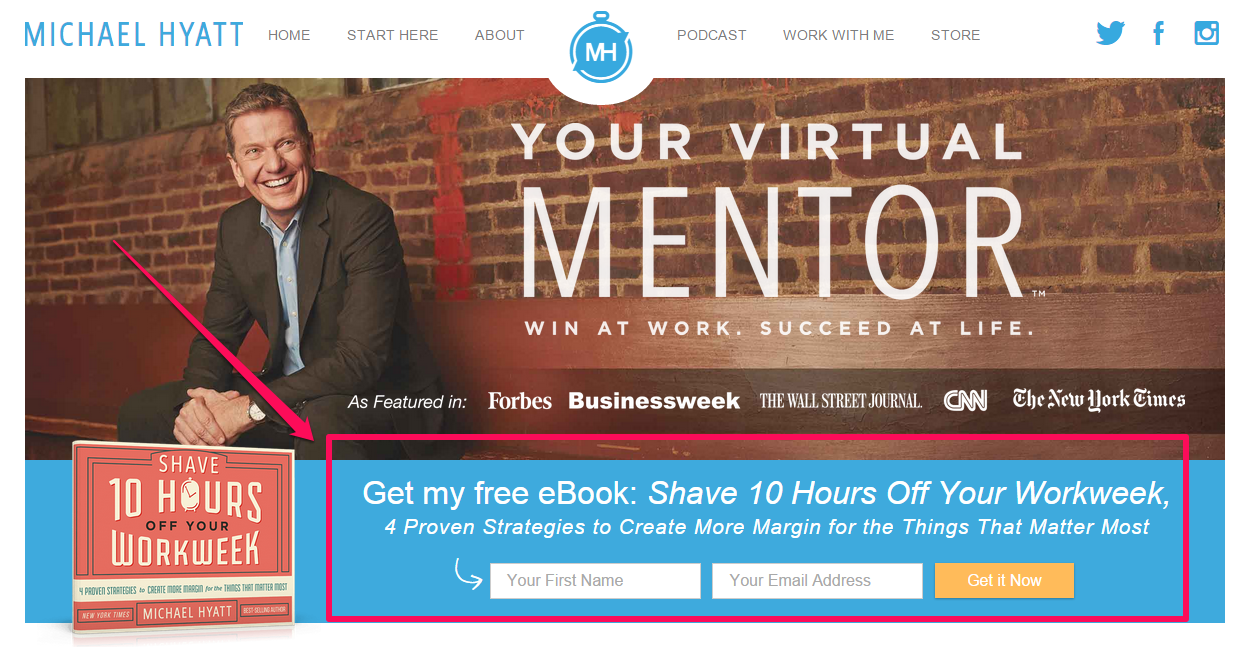 COACHING SERIES
A series of coaching emails or the course of a period of time can also be a good lead magnet if executed properly.  Keep in mind that you need to actually keep the content very high quality and actually produce some results for them!
BLOG POSTS
Blogs are a great way to provide up front value to people for free.  By myself giving you this information on lead magnets, I am helping you understand more about how to get more leads in your business.  And hopefully because of this, you will opt in to my newsletter to learn more great stuff! 😉
5 TIPS TO CREATING A GREAT LEAD MAGNET
MAKE A SPECIFIC PROMISE
What are you promising your potential lead in the lead magnet?  Is it to lose a certain amount of weight?  Is it to gain knowledge on specific subject?  You need to be clear on what it is that you're going to offer them.
USE SPECIFIC EXAMPLES
If possible, pull out some of examples or case studies that can be used to assist in your persuasion.  Show them by example what can be accomplished with your services.  This will be a great way for them to build more trust in your brand and your competency in your niche.
OFFER A SPECIFIC SHORTCUT
Who doesn't want their life to be easier?  If you can offer a very specific shortcut to a problem or task then your lead magnet will definitely be a lot more enticing and appealing to people.  One of my favorite shortcut ideas is to offer a template to solve a problem.  Templates save a lot of time, and they simplify life.  They will require minimal work on your part to create, and they'll get a lot of attention!
OFFER A SPECIFIC DISCOUNT
You can offer a discount on a product or service you offer in exchange for an opt in.  I must say however that this is one of my least favourite methods to creating a lead magnet because it doesn't offer as much perceived value as a free giveaway can.
ADDRESS A SPECIFIC QUESTION
Is there a specific question that your target audience has?  If so, then answer it to the best of your ability.  If you can manage to do a good job at that, then you've already offered a great deal of value to your audience.  This will encourage them to keep coming back to you when they need help with additional questions (in other words… start billing them!).
>> If you enjoyed this blog post, then I would like to ask you for a favor.  Please rate, share, and leave me a comment below.  Thank you!